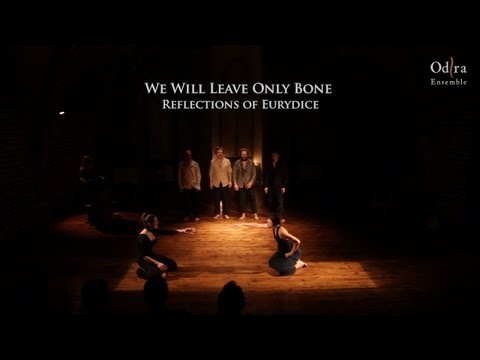 Odra Ensemble presents
'We Will Leave Only Bone: Reflections of Eurydice '
in association with Teatr Pieśń Kozła
1-3 March and 6-7 April 20:00
Reservations: office@piesnkozla.pl or call (+48) 71 342 71 10
We Will Leave Only Bone:
Reflections of Eurydice
Director: Anu Salonen
Cast: Julianna Bloodgood, Joshua Doerksen, Janie Gibson, 
Daniel Han, Alexandra Kazazou, Diego Pileggi, 
Dimitris Varkas
Your absence has gone through me
Like thread through a needle.
Everything I do is stitched with its color.
-W.S. Merwin, 1962
---
   We Will Leave Only Bone: Reflections of Eurydice emerged as a continuation of the project entitled Step Beyond, initiated and coordinated by Anu Salonen from Song of the Goat Theatre (Teatr Pieśń Kozła).
In October 2011, a group of graduates from the MA Acting Programme run by Song of the Goat Theatre in conjunction with Manchester Metropolitan University, were invited to Wroclaw, Poland to share their individual thesis experiences abroad and to continue their research together in a practical theatrical context. Before their first work session the members of the group undertook individual expeditions to investigate cultural and artistic traditions and various performance practices, some in post-conflict areas, such as Dadaab Refugee Camp (Kenya), Salento (Italy), Srebrenica (Bosnia and Herzegovina), Guantanamo Bay (Cuba), the Balkans region (Serbia, Romania, Bulgaria and Greece).
In April 2012 they started creating a work-in-progress performance, which was a first draft of the theatrical possibilities within the research from the session in October. Under the name Odra Ensemble, the first presentations of We Will Leave Only Bone: Reflections of Eurydice were given in Wrocław in May 2012 at Teatr Pieśń Kozła.
In August 2012, the work-in-progress was presented in Thessaloniki.
"The inspiration for creating We Will Leave Only Bone was the ancient myth of Orpheus, that presents itself both as a narrative tool for the work, and also as the metaphor of our working process.
Beyond the boundaries of the self, we have only each other to provide support. Relationship exists in moments of destabilization, when the border of individuality is breached. We are searching for these moments, the moments to cross the boundaries after which only the support of ensemble can sustain theatrical action.
Orpheus reflects this desire, even crossing the border of life and death in order to sustain relationship. His singing in Hades resonates so completely that all punishments in the underworld are stopped, even Sisyphus's stone is halted. As much as his song represents a determined need to seek salvation through expansion and fortification of connection, it parallels our own desire."
---